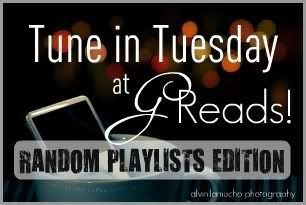 HELLO!!! TODAY IS SUCH A GREAT DAY!!! It is Tuesday and that means that this week is underway...:) But that is not all
IT IS MAY 1ST!!!! And that means the following..
~ It's Tune in Tuesday!
~It's Glee Day!
~It's INSURGENT DAY!!!!
I have been waiting a really long time for this book to come out and I can not believe it is actually here!!! YAY!!!
You can actually read my review
HERE
!
But back to the first thing on the list for today!
ITS TUNE IN TUESDAY! :) I think Tuesdays are my favorite day of the week....I really do...
This month you are supposed to open your music playlist and show some of the songs that you are listening too...
I have been listening to a lot of songs lately.
Here are just some of the many!
Those are just some of the awesome songs that have kept me going this past week....:)
What is on your playlist???